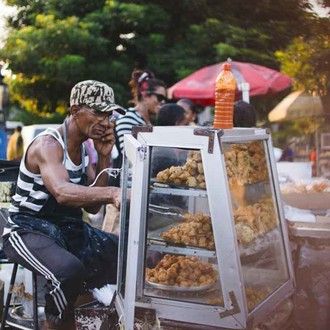 We have mentioned the famous dhalpuri, farata and alouda of Mauritius several times already. We have also talked about typical Mauritian dishes. Through this article, we wish to make you live an unmatched culinary experience: that of Mauritian street food. Forget about fancy cutlery and expensive dishes, we are about to mention some places where great meals with unique tastes can be found at low cost.


Plaine Verte, Port Louis
During the day or at night, the city is always crowded. It is known as the destination to eat (good food).

The ex Desforges street (now Sir Seewoosagur Ramgoolam), in Plaine Verte, is the centre of good eaters' attention. Not all the street food sellers that operate at nighttime are present during the day. The Pont de Paris is a reliable address, where you can always find something to eat, as from 6 in the evening until late at night.

From the famous briani to the shawarma (a baguette filled with marinated grilled and shredded chicken and salade), grilled chicken and lamb, and pancakes filled with Nutella, to the much-loved ice cream roll or the latest "sorbet disel pima", ice cream with salt and chili.

The Pakistan Hotel is one of the last "lotel dité" (if not the only one) left in Mauritius. It is situated on the right side of the road when going towards the municipality. A "lotel dité" is a small restaurant selling tea, fried snacks (such as gato pima, samoussa and others) and local sweet dishes (such as puddings). These are the specialties that you will find there, in addition to the "pain maison" (a round-shaped bread), which can be buttered upon request. The Pakistan Hotel became famous due to the fact that it remains open until very late at night.

The Chinese neighbourhood, called Chinatown, is located near the Northern bus station. It is famous for its dim sum and its fried noodles.

Beau Bassin/Rose Hill
In the vicinity of the Sacré Coeur church and the police station of Beau Bassin, you will find ice cream rolls, dim sum, skewers and crispy chicken, among others.

Another place where you can find something to eat until very late at night and which every resident of Beau Bassin and Rose Hill knows: Gool Square. Recently renovated and expanded, some Mauritian sweet dishes are available there.

Head to the centre of Rose Hill, near the bus station (which is also to become a Metro Express station) to drink some halim, a spicy soup of Arabian origin. Shawarma, farata, dhalpuri and Chinese noodles are also available in this area.

In case you are feeling peckish, there is a small pink truck in a parking lot near the Notre Dame de Lourdes church, selling fried snacks (just scooped out from the boiling oil). It is important to note that the catering trades in Rose Hill are not open until very late.

On the beach
Mauritians love snacking when they are at the beach. Ice cream and fast food trucks, as well as merveille (a fried snack), grilled or boiled gram and peanuts, artisan ice cream, chilled lollipops and kulfi malai (ice cream made of cardamom-flavoured milk and almonds) sellers therefore come to beaches to earn a living.


We strongly advise you to indulge in the experience of street food in Mauritius, especially at night. Not only for the food, but also for the atmosphere.